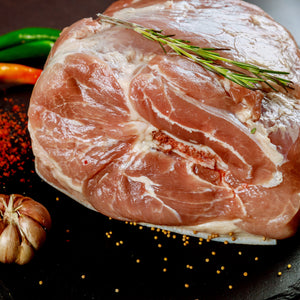 Pork Boston Butt Boneless- (Shoulder Roast)
Approximately 3-4 Kg
Pork butt can be fatty with lots of connective tissues, making it the preferred cut for low and slow cooking.

Pulled pork is a delicious tailgating standby; you can't go wrong with slow-roasted meat so tender that it falls apart with two forks, lightly drenched in some tangy-sweet BBQ sauce. 
Order with ColdKart
- 100% Farm Raised
- Vacuum Packed & Sealed
- Temperature Controlled Delivery
Price mentioned is Per Kilo of Weight
Product weight can change at the time of billing - Rates will be charged accordingly.
---
We Also Recommend
---