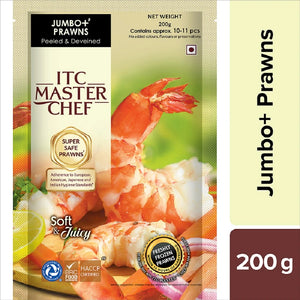 Jumbo Prawns 200g Frozen ITC
Best for dry preparations, these prawns can perfectly pull off being the hero of not just the dish, but the entire meal. Leave these prawns whole, rather than chopping them, to make the most of their attractive appearance. Serve them cold with a delicious dipping sauce or in a seafood salad.
Each 200g pack contains approx. 10-11 pieces of Jumbo+ prawns.
Key Information
Main Ingredients:

 

ITC Master Chef Frozen Jumbo+ Prawns are free from any impurities, contaminants or preservatives. The shells and veins are carefully removed from these high quality Jumbo+ prawns. ITC Master Chef Frozen Jumbo+ Prawns undergo up to 243 different tests to deliver a safe, hygienic and quality product to our consumers.


Suitable For:

 

ITC Master Chef Frozen Jumbo+ Prawns are an excellent and reliable product for seafood lovers to have in their freezer at all times. Carefully cleaned, de-shelled and deveined, these Jumbo+ prawns are ready-to-cook without any cleaning, or wastage. This makes ITC Master Chef Frozen Jumbo+ Prawns a highly suitable product for your home as they offer great convenience, robust quality and safety.


Usage:

 

Jumbo+ prawns are best served in appetizers due to their wonderful size. They are a great fit for barbecues, stir fry dishes, and a wide variety of dry preparations. Butter Garlic Prawns, Chili Prawns, Manchurian Prawn and many other interesting recipes can be prepared with ITC Master Chef Frozen Jumbo+ Prawns. To defrost and thaw your frozen jumbo prawns, always use room temperature water. Avoid thawing this product without water, by immersing in hot water or with the help of a microwave.


Quantity:

 

This pack of ITC Master Chef Frozen Jumbo+ Prawns weighs 200g, and contains approximately 10-11 pieces of delicious and juicy freshly frozen jumbo prawns.
ITC Master Chef Frozen Jumbo+ Prawns meet the hygiene and safety standards of regulatory bodies in Europe, America, Japan and most importantly, India. Proudly bearing the hallmark of Super Safe Prawns, ITC takes a considerable amount of care and precision to maintain the high quality of our Freshly Frozen Jumbo+ prawns. In addition to safety and impeccable hygiene, ITC Master Chef Jumbo+ Prawns are Individually Quick Frozen to prevent clumping and bruising of the prawn meat. The IQF technology also preserves the freshness of these Jumbo+ prawns by freezing them within 15 hours of harvest. This prevents any bio-chemical activity, and decay, locking in the freshness of your beloved jumbo prawns until you are ready to cook them.
---
We Also Recommend
---