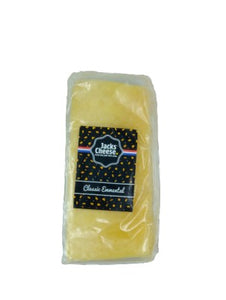 Emmental Cheese 200g Jack's
Jacks Cheese brings cheese from Holland. They believe in a new approach and the way they do that is unique. Jacks Cheese design is attractive yet simple and easy to recognize. They have the finest quality cheese from Holland.
Emmental is a yellow, medium-hard cheese that originated in the area around Emmental, in the canton of Bern in Switzerland. It is classified as a Swiss-type or Alpine cheese. It is ideal for cheese fondue or any dish that requires melted cheese, such as gratins and casseroles, grilled cheese sandwiches, pasta, and egg dishes. It can also be eaten cold, layered into sandwiches, or served on a cheese platter with fruit and nuts.
Available as 200g Wedge.
---
We Also Recommend
---