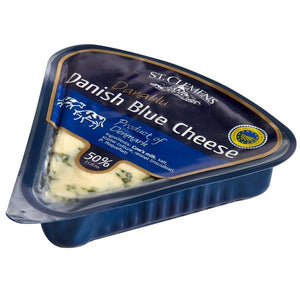 Danish Blue Cheese Table Pack 100g St. Clemens
St. Clemens is a modern dairy cooperative owned by the dairy farmers on the island of Bornholm in the middle of the Baltic Sea. They produce yellow cheeses, hard cheeses (Greek style), semi-soft cheese (Havarti) and Blue Cheese for international export and liquid milk for the local market in Bornholm.
It is a white to yellowish cheese with nice blue veins and an open structure. The cheese is firm, but sliceable and might crumble a bit. The taste has a good balance between mold, salt and the sweet taste of the cow's milk. The taste is often sharp and salty.
Available as 100g Table Pack.
---
We Also Recommend
---