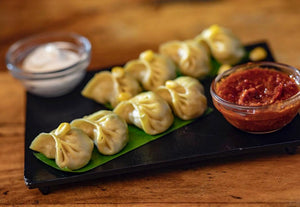 Chicken Peri Peri Dimsum Momos 500g
These Frozen Dimsums are about 25 in a pack
Cooking Instructions:
Boiling :To boil dumplings, fill a large pot two-thirds of the way with water. Cover and bring to a boil over high heat. Add as many dumplings as can fit comfortably in a single layer in the pot and cook them until they float. Let them cook an additional two to three minutes. Fish them out with a strainer, drain them, and serve.
Steaming is a much faster method as you only need to bring a few cups of water to a boil instead of an entire pot.  It does require the use of a bamboo steamer insert for your wok or pot. Steam the dumplings until cooked through, about 10 minutes if going directly from the freezer.Use a Cabbage Leaf / Banana Leaf to layer the steaming surface and then place the Dimsums.
---
We Also Recommend
---